Lithia Motors Jobs
Receive alerts when this company posts new jobs.
About Us
Industry

Automotive Retail

The Beginning...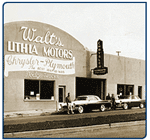 The mission of LITHIA, America's car and truck store, is to be the preferred provider of car and trucks and related services in North America.

Walt DeBoer started LITHIA in 1946 as a single store on "The Plaza" in Ashland, Oregon. In its first year, Lithia had five employees who sold 14 vehicles. Following Walt's death in 1968, Sid DeBoer (eldest son in a family of six children) reorganized and took control of the small Chrysler-Dodge store.
And Now...
LITHIA MOTORS, INC. is one of the largest full-service new vehicle retailers in the United States with 108 stores in 46 markets located in 15 states in the Western and Midwestern United States. LITHIA offers 30 brands of new domestic and imported vehicles, all makes of used vehicles, service and parts, and finance/insurance. Internet sales are centralized at "Lithia.com-America's Car & Truck Store". Lithia had total revenues of $3.17 billion in 2006.

LITHIA went public in December 1996 at $11/share. Over the last eight years the Company has achieved Compound Annual Growth Rates (CAGR) in sales of 40%, net profit of 39%, and in Earnings per Share (EPS) of 20% per year. Over the same period same-store sales grew at an average annual rate of 2.9%. The common stock trades on the NYSE under the ticker "LAD".

For the full-year 2006, Lithia's net income from continuing operations was $40.3 million. Lithia earned $1.91 per share from continuing operations. Total revenues increased 11% to $3.17 billion.
Vision Statement - A statement of what we are striving to be
LITHIA envisions the future, develops and embraces a strategic plan, and ensures the success of the plan.
We strive for strong, sustainable and profitable growth.
We speak a common language and execute best-in-class processes in all of our operations.
We have dynamic and dedicated leadership committed to the standards and mission of Lithia.
We provide opportunities for our people to excel and grow in a positive, respectful work environment.
Our customers choose us because of our professionalism, consistency, and the extra effort we make to serve them.
Our investors choose us because we are a sound investment.
We Foster long term and mutually beneficial relationships with manufacturers and suppliers.
We hold ourselves to the highest ethical standards in how we treat our employees, our customers, and our business partners.
Open Montana Jobs
There are currently no advertised positions at Lithia Motors in Montana